For many, we were told throughout our childhood how important education is. After high school we're encouraged to go to college and get a degree so we can get the job of our dreams. The part that is often left out is the overwhelming debt that can accompany college. Currently there are 44 million Americans in student loan debt totaling 1.64 trillion dollars. Although student loans can be part of the college experience, we don't want it to be a burden that holds you back any longer than necessary. There are solutions that can help you worry less about student debt while you pay off your loans ahead of schedule and save on interest.
Paying more is smart, but is it easy?
One of the most common tips you will see on paying down student loans faster is to make more than the minimum payment. Although this is factually true, paying more isn't always an option. To start, average monthly school loans can range from $200-$300 a month. That is a lot of money for anyone, and that's just another payment on top of car payments, food, gas and electricity, and housing. That's where the ChangEd app can help.
What is ChangEd?
ChangEd is an app created specifically with millennials in mind, born from the idea that a lot of young people are struggling from the largest student loan financial crisis we have seen to date. As seen on Shark Tank, ChangEd makes paying down student debt faster and easier.
How does the ChangEd app work?
ChangEd makes paying extra on your student loans easy and convenient without you needing to do anything extra. Simply download the app to your smart device and after linking your Astera account to ChangEd, any transaction made will round your change up to the nearest dollar. For instance, if you buy a burger for $4.23, the leftover change of $0.77 can be transferred into your ChangEd account automatically. Once you reach your selected transfer dollar amount in your ChangEd account the money will be transferred to your student loan(s) all in an effort to pay extra on those and save interest and eliminate that debt faster.
With the ChangEd app, worry less about your student debt, and more time enjoying your future. ChangEd is just another product to fulfill Astera's promise to provide financial quality service for any step in your life. As an added benefit, Astera CU is covering the monthly app cost, giving ChangEd to our members for free!
To learn more call us at 800.323.0048 or click here.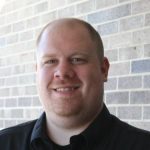 Ryan Dempsey
Astera Credit Union
Marketing Coordinator