Checking accounts are a standard product offered by most financial institutions. But, at many banks and credit unions, checking accounts are nothing more than an account that holds your money and provides access via a debit card, check writing, and bill payment. At Astera Credit Union we've gone out of our way to give members a variety of checking account choices based on what's most important to you when it comes to your account.
I thought Kasasa was just another basic checking account. With other checking accounts I had they were simply a means by which I made purchases and paid bills. When I first signed up for Kasasa I thought it was just another basic checking account. It wasn't until I really looked at the benefits it offers that I realized what truly sets it apart from other accounts. To start, Kasasa Cash Back is a free checking account. FREE! Plus, it gives money back on my purchases every month. Separately these benefits on their own warrant a person's attention, but together they truly make Kasasa something special. And, even with Kasasa I have choices, for someone who carries a higher balance in their checking Kasasa Cash gives EVEN MORE cash back each month.
Sure, there are a few requirements to receive those Kasasa cash back benefits each month, but the requirements weren't anything I wasn't already doing. Think about this, I have a free checking account, with cash back, as long as I keep doing what I have been doing for years already! What more could I ask for?
Turns out there is more! An account called Kasasa Saver can be paired with Kasasa checking accounts. The money I get back from my checking can be deposited directly into my Kasasa Saver account allowing me to earn higher dividends on my money. This is the definition of letting my money work for me. A free checking account, earning cash back, paired with a savings account that earns higher dividends, it all equals saving money without me having to do anything special.
For those who find the requirement to do 15 debit card purchases per month to meet their Kasasa account qualifications a determent, Astera CU also offers Choice checking. Although this account does not offer cash back, it gives members another choice when it comes to a checking account. This checking account comes with a nominal $5 monthly fee but gives member several ways to reduce the fee to zero, by doing simple things such as signing up for eStatements.
Things I learned from choosing Kasasa checking:
Don't accept that an account is what it is. There are always other options
Having a choice in what I do with my finances makes me feel in control of my money
The security of having a debit card over cash is critical in today's risky environment
15 purchases a month sounds like a lot and I was hesitant at first. But, after receiving my first few statements I realized after paying bills and making other purchases, I personally average 30+ debit transactions a month
Astera CU prides itself on offering members choices every step along their financial journey. Our checking accounts are just another way we strive to serve our members.
To learn more about Astera CU checking accounts and to find out which product is right for you, click here. To speak with a member service representative, call 800.323.0048.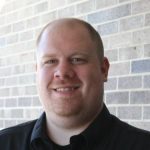 Ryan Dempsey
Astera Credit Union
Marketing Coordinator