Effective Saturday, September 12, Astera CU branch lobbies will be closed to walk-in visits. Our drive-thru windows will be available for teller transactions.
To be able to provide better service to you with limited staff due to the pandemic, our branch lobbies will now be closed to walk-in traffic on Saturdays. Standard teller transactions will be conducted through our convenient drive-thru service on Saturdays.
If you would like to meet with a Member Service Representative on a Saturday, please click here to schedule an appointment or call us at 800.323.0048. Our lobbies will be open on Saturdays by appointment only.
As a reminder before entering our establishments please note the following:
Executive Order 2020-147 establishes a legal requirement that anyone who enters this building wear a mask covering their nose and mouth. You may be asked to lower your mask briefly for identification purpose. If you desire to not wear a mask, our drive thru or remote services can be utilized to conduct your transactions.
Only a small number of members will be allowed in the lobby at a time. Our staff will control this and members with appointments will be given priority over walk-ins. To schedule an appointment with our staff prior to visiting our branch visit us at www.asteracu.com.
For the protection of our members and employees, we ask that you stay home if you've been sick, are feeling sick, or have traveled recently.
Remain at least six feet away from others during your visit. Our staff will be wearing face masks and observing social distancing as well.
We have social distancing markers inside the branch to ensure proper distancing of members as you may have to wait in line.
Please note: Our hours of operation have changed. Hours at all drive-thru windows, Virtual Branch, Administrative Office, and Astera Credit Union branches, including the Ionia Branch, are as follows:
Monday 9:00am – 5:00pm

Tuesday 9:00am – 5:00pm

Wednesday 10:00am – 5:00pm

Thursday 9:00am – 5:00pm

Friday 9:00am – 5:30pm (Administrative Office Closes at 5:00pm)

Saturday 9:00am – 1:00pm (Lobby by Appointment Only) (DeWitt Closed) (Ionia Open for Walk-Ins)
For a detailed breakdown of our suggested methods of service for your banking needs, please see the graph below.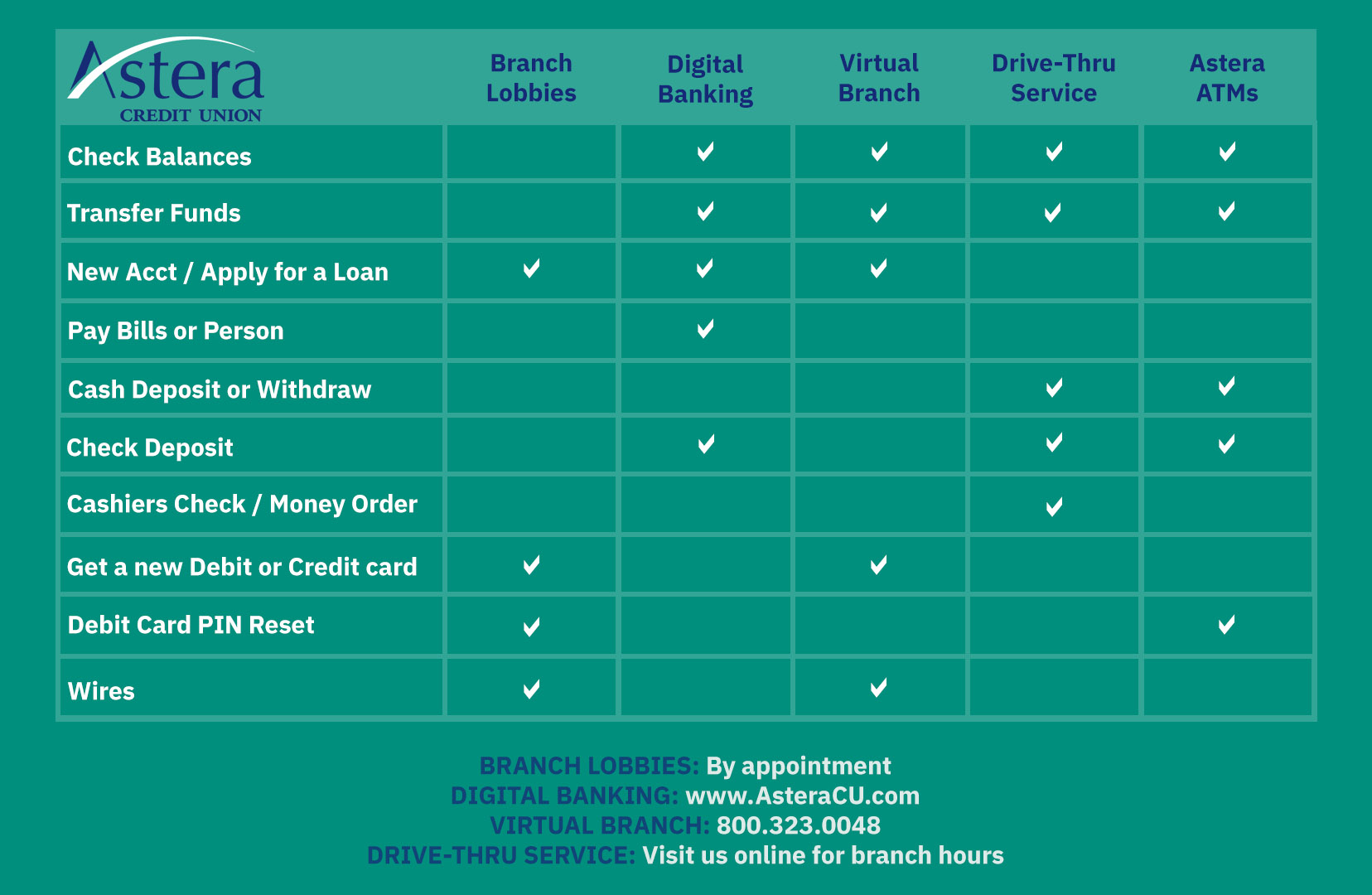 If you have any further questions, please feel free to reach out to us by calling 800.323.0048.