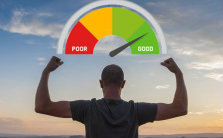 Credit Builder Loan
Have you been turned down for a loan due to your credit score being too low? Whether your score is suffering because you've hit a rough patch or you're just starting to build credit, Astera's Credit Builder loan may be the answer to get you on track.
The Credit Builder loan isn't a traditional loan where you apply, and then immediately receive the money to spend. The purpose of this loan is different: boost your credit score!
How does it work? Upon approval, we deposit the funds into your savings account (and place a "hold" on it"). All you have to do is make on-time payments and "pay-off" the loan. It's that simple. Another great benefit is you'll be earning interest on that held money in your savings account, so at the end of your loan term, you'll not only have access to your borrowed money, it will be plus interest. The best part? You'll, potentially have boosted your credit score! It's that easy!
Build your credit with 3 easy steps:
1. Pay off Loan – We will deposit the money into your savings. This money will have a hold on it until the entire loan is paid in full. Simply make on-time payments to avoid fees or credit score penalties
2. Earn Interest – The money sitting in your account will continue to earn interest based on current savings rates. Earn free money every month by simply having the money there.
3. Receive Money – After you have paid your loan in full, the funds will be released and the money is yours to spend. Plus you should see an increase in your credit score!
Credit Builder Features:
Loan Term: 6-48 months

Monthly Payments as low as $44 a month* ($500 loan, 12 month term)

Fixed rate of 7.95% APR*

Proceeds of loan are placed into share account where it will earn interest

Funds are placed on hold until full loan balance is paid off

Must be 18 years or older to apply

Affordable payments

Build a positive payment history with credit union and credit bureau

Convenient repayment options with payroll deduction or auto pay.
To apply for a Credit Builder Loan, call us today at 517-323-3644 or stop into any branch and speak with a member service representative.