Choice Checking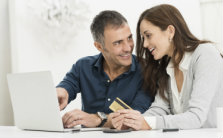 Summary

Choose your way to saving money with Choice Checking!

Every day you make a choice on what you should or shouldn't do. Well, shouldn't your checking account be the same way? Why settle for a checking account that's just regular or basic? With our Choice Checking account, you choose your level of participation. The more you use Astera Credit Union, the more you'll save. How? By using your debit card, or by adding a couple of additional services with us, you can cut down, or even eliminate, any monthly service charge you may currently be paying*. Choice Checking comes with all the same services you know and love, but with choices.

Details:

*How to Reduce Your Service Charge

If a minimum balance of $500.00 is not maintained, a $5.00 monthly service charge will be applied. But, with Choice Checking you can actually reduce that service charge by doing things you are probably already doing. Choose any or all of the following to reduce, or eliminate your monthly service charge*:

Enroll for eStatements - $3.00 reduction.
Active ACH (Deposits only) or Direct Deposit - $1.00 reduction.
Utilize your Astera Credit Union MasterCard debit card – for every transaction per month you will receive a $0.10 cent reduction, up to $5.00.

*Total Reduction cannot exceed $5.00. Choice Checking does not offer cash back or rewards."




Astera Secure

Pair your EMV chip debit card with CardNav to give yourself more protection against fraud for free! Add additional protection by signing up for Kasasa Protect. Click here to learn more about how you can be Astera Secure.