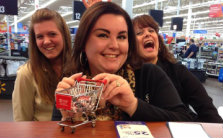 Who We Are
Find out who the people are behind the scenes at Astera Credit Union, making sure profits go back into the wallets of its members and serving each and every need!
Senior Management
Martin R. Carter


President/CEO

James Paisley


Vice President of Information Technology

Chris Tyler


Senior Vice President
of Operations

Jessica Hayes


Assistant Vice President
of Member Experience

Debra Miles


Chief Financial Officer

Lisa Posthumus


Vice President of Lending
Branch Managers & Supervisors
Jolly Rd.
Ryan Maloney, Branch Manager
W. Saginaw Hwy.
Trevor Hollis, Branch Manager
Dianna Smith, Assistant Branch Manager
DeWitt
Ryan Johnston, Financial Center Manager
Dana Hartwick, Assistant Financial Center Manager
Ionia
Danette Winans, Branch Supervisor
Board of Directors:
Mark Van Epps, Chairman
Jason Hawkins, Vice Chairman
Harold Brown, Secretary
Susan Canen, Treasurer
Martha Adams, Membership Officer
Kevin Goff, Director
Cathy Murray, Director
If you would like to contact the board or make suggestions for improving Astera Credit Union, please contact us.*