Now is a great time to see what your checking can do with Benefits Plus.
Offering everything from travel savings, e-coupons and rebates to Identity Theft Protection and Pet Insurance, Benefits Plus tranforms how your checking works for you.
Set Fraud Alerts
Reduce Junk Mail
Order Free Credit Reports
Organize Personal Information
Activate Identity Theft Restoration Service
Earn up to 33% Cash Back at national online retailers
Cash Back awards accumulate in an online reward account
It's simple and automatic every time you use your Debit Card at participating online retailers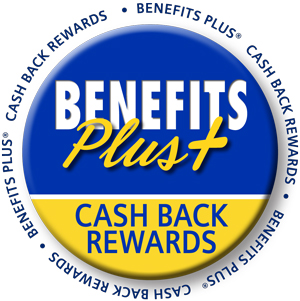 Domestic & International Airline Tickets (Guaranteed lowest price plus you get a 3% rebate!)
Hotel and Car Rentals
Cruises
Theme Park Admissions
Prescription Discounts
Vision Care/Product Discounts
Hearing Care/Product Discounts
Internet Grocery Coupon Club
Movie Ticket and Rental Discounts
National Restaurant & Retailer Discounts
24-Hour Emergency Roadside Assistance*
Group Dental Plan*
Pet Health Insurance*
And much more
For a list of local savings click here.
Would you like to learn more?
Click here for the Benefits Plus Website
or
email us
Benefits Plus is a program that you can attach to your current checking account. When you join Benefits Plus your checking account becomes a tool for saving on all the things you already do. Whether you enjoy going to the movies, travelling or just saving on the things you buy every day, Benefits Plus will help you.
Act Now and receive a "90 Day Free Trial"
90 days free to anyone who opts in with a checking account. After 90 day trial, $5.00 monthly fee will apply.